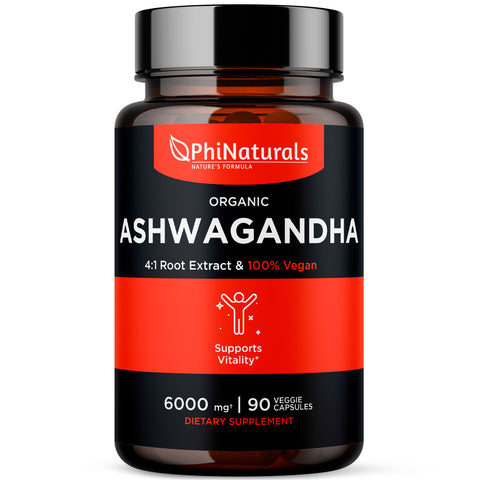 SHOW/HIDE ADDITIONAL IMAGES
Ashwagandha Organic Herbal Supplement

Fast & Free US Shipping
Orders over $35 qualify for FREE standard shipping and will arrive within 4-10 days, or upgrade to Priority shipping for a small fee.

no hassle returns
All purchases come with our no questions asked 30 day return policy.
---
Supports Stress-Response
As the most popular adaptogen in the world, Ashwagandha has been seen to support overall performance and increased energy. Studies show it decreases the major stress hormone called cortisol. With a healthy inflammation response, the immune system may be boosted and can function optimally.
Whether used for recovery from intense activity or as a daily boost to your physical and mental performance, ashwagandha is an essential herbal adaptogen for living life to its fullest.
Our ashwagandha is sourced for organic farms in India and encapsulated in the USA at state-of-the-art facilities. Rest assured that you're getting the highest quality ashwagandha possible with Phi Naturals Ashwagandha. These are provided in 500mg capsules with 90 capsules per bottle.
Each 3-capsule serving is the equivalent of 6000 mg of the whole ashwagandha root because the 4:1 extract provides the most important part of the plant.
Increased Strength and Muscle Mass
Ashwagandha supports your body's energy production and building muscle. It can also increase testosterone and decrease inflammation, helping your body function optimally.
Brain Function and Mood
Ashwagandha has been used with success for those suffering from depression and anxiety. It has antioxidant properties in the brain and also decreases inflammation which leads to a higher functioning nervous system.
As an adaptogen, Ashwagandha helps your body and brain deal with stress far more optimally than your system would normally handle it.
Suggested Use
As a dietary supplement, take 1 capsule two to three times daily
Legal Disclaimer
These statements have not been evaluated by the FDA. This product is not meant to diagnose, treat, cure or prevent any disease or condition.
Ingredients:
Ashwagandha4:1 Extract (Withania Somnifera Root) - 1500mg
---
Share this Product
---
More from this collection