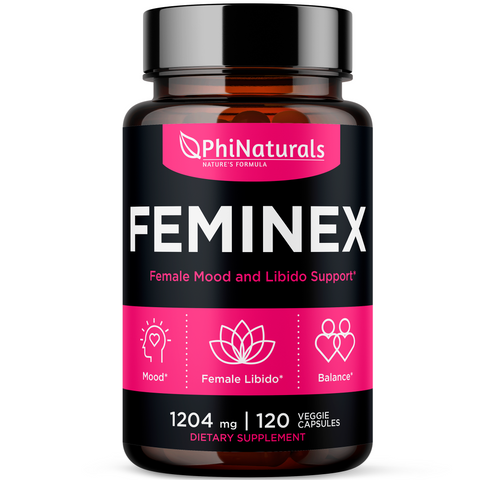 SHOW/HIDE ADDITIONAL IMAGES
Feminex Female Libido Enhancer

Fast & Free US Shipping
Orders over $35 qualify for FREE standard shipping and will arrive within 4-10 days, or upgrade to Priority shipping for a small fee.

no hassle returns
All purchases come with our no questions asked 30 day return policy.
---
Finally, there's a supplement to give women an edge in the modern world
Most supplements are made "for men, by men". There are countless pills and supplements on the market to help men with their hormones, energy, libido, erections, stamina, sexual enhancement and even their orgasms. But what about us women?
Introducing Feminex: More than just a female libido enhancer
Whether it's stress in the workplace, at home, or both - the life of a modern woman takes a toll on our bodies. These modern stressors cause our female hormones to go out of balance, which leaves us:
feeling worn out and exhausted
feeding our uncontrollable food cravings
not feeling as "in the mood" as we used to
Feminex is not like any "libido booster" that a man might use
Most male enhancement pills work by merely sending more blood to his member. We all know a woman's body isn't that simple. Feminex ingredients aid a woman's body in restoring a healthy hormonal balance, so increased libido and more satisfying love-making come naturally.
All Natural Formula. No Caffeine. No stimulants.
The Feminex proprietary blend contains four herbs that support a woman's body to:
maintain balanced energy through stressful days
maintain a better mood
improve memory
boost sexual appetite
achieve orgasms and/or increase their intensity
have a more satisfying love life
For thousands of years, traditional herbalists have used plant chemistry to stimulate desire, arousal, sexual performance, and sensitivity. Discover their ancient love-making secrets.
Feminex is a product "for women, by women". Take control of your sex life with this all natural female libido enhancer.
Suggested Use
Take two capsules after your first meal and two capsules before physical activity. Maximum four capsules per day. 
Legal Disclaimer
These statements have not been evaluated by the FDA. This product is not meant to diagnose, treat, cure or prevent any disease or condition.
Ingredients:
Ginkgo Biloba - 600mg
Siberian Ginseng - 200mg
Maca - 200mg
White Turmeric Root - 200mg
Puncture Vine - 4mg
---
Share this Product
---
More from this collection