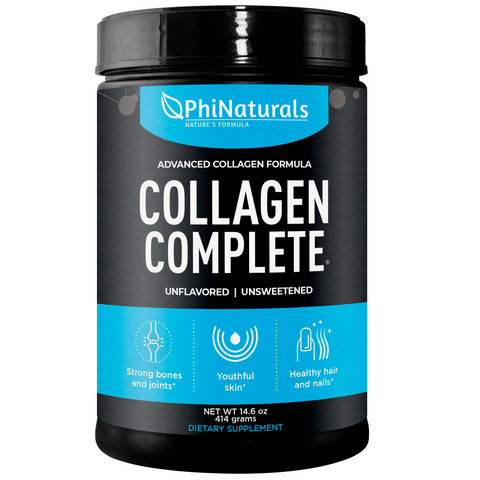 SHOW/HIDE ADDITIONAL IMAGES
Collagen Complete Powder Unflavored

Fast & Free US Shipping
Orders over $35 qualify for FREE standard shipping and will arrive within 4-10 days, or upgrade to Priority shipping for a small fee.

no hassle returns
All purchases come with our no questions asked 30 day return policy.
---
THE MOST COMPLETE COLLAGEN FORMULA AVAILABLE
Collagen is the building block of healthy skin, joints, hair and nails. It forms the elastic netting that supports youthful skin and the protective tissues in your joints which allow you to run, jump and walk with ease. It holds your body together and keeps you looking and feeling young.
Healthy collagen = Youth. And because of that, it...
THE PERFECT ANTI-AGING SUPPLEMENT WOULD DO THE FOLLOWING:
Provide collagen
Stimulate new collagen growth
Protect existing collagen
This theory is behind the formulation of Collagen Complete.
A SCIENTIFICALLY PROVEN COLLAGEN PEPTIDE DOSE
Sadly, most supplements don't provide enough collagen to make a difference. Many collagen supplements only have 1,000 mg to 2,000 mg per serving, while most scientific studies on collagen use a dose of 10,000 mg. This is why Collagen Complete is a powder--it's inconvenient to take the proper dose in pill or tablet form.
Not Just One Type of Collagen--A Complete Collagen Profile
Many collagen supplements contain a limited profile of Collagen Types. Some contain only Collagen Type II, which is good for the joints and connective tissue. Other products contain only Collagen Types I & III, which are found in the skin. The truth is your body needs peptides for all collagen types in order for you to re-build collagen all over your body.
Collagen Complete contains CollagenTypes I, II, III and more! There are over 80 Collagen Types that your body uses in various ways, and your body needs them all.
COLLAGEN PROTECTION AND GROWTH STIMULATION
As mentioned above, the perfect collagen formula would not only provide the body with the collagen it needs, but also stimulate collagen production and protect existing collagen. Collagen Complete also contains these collagen-boosting and collagen-protecting ingredients:
COLLAGEN PEPTIDES:
Through an organic enzyme process, our grass-fed bovine collagen is turned into collagen peptides. The low mollecular weight of these hydrolyzed collagen peptides means you get the highest absorption rate possible and more of the collagen goes to your skin, joints and bones.
HYALURONIC ACID:
Stimulates collagen production in the skin and joints. It plays an essential role in keeping skin naturally moisturized and joints lubricated. It is an important anti-aging supplement needed for the creation of collagen.
GLUCOSAMINE and CHONDROITIN:
This powerful combo is well-known for its joint pain relieving properties, because it aids the body in absorbing, creating and protecting the collagen in your joints (and skin). Glucosamine also reduces age spots.
PAPAIN:
Papain is a natural enzyme from the papaya fruit that helps heal the skin by promoting the activity of collagen-producing cells, so your body will also produce its own collagen. It is also proving useful for wound healing and to reduce inflammation.
BROMELAIN:
Bromelain is a natural enzyme from pineapples that will help the body break down collagen so it can be absorbed better. It also improves certain inflammatory skin conditions such as acne, rosacea, dermatitis, eczema, and psoriasis, giving you clear, radiant skin.
Vitamin C:
Vitamin C supports the protection of existing collagen from free radicals and toxins. Aging is caused by the environment taking its toll on your body's structure. Collagen is the main component of that structure and Vitamin C will help protect it.
MORE COMPLETE THAN ANY OTHER COLLAGEN SUPPLEMENT
There's no other collagen supplement available that delivers the quantity of quality nutrients that Collagen Complete does:
Suggested Use
Mix one scoop with 8-16 ounces of water or other liquid once or twice per day
Legal Disclaimer
These statements have not been evaluated by the FDA. This product is not meant to diagnose, treat, cure or prevent any disease or condition
Ingredients:
Hydrolyzed Collagen
Chondroitin - 1,500mg
Glucosamine Sulfate - 1,200mg
Hyaluronic Acid - 25mg
Vitamin C (as ascorbic acid)
70 Trace Minerals - 100mg
Bromelain
Papain
Protease
---
Share this Product
---
More from this collection