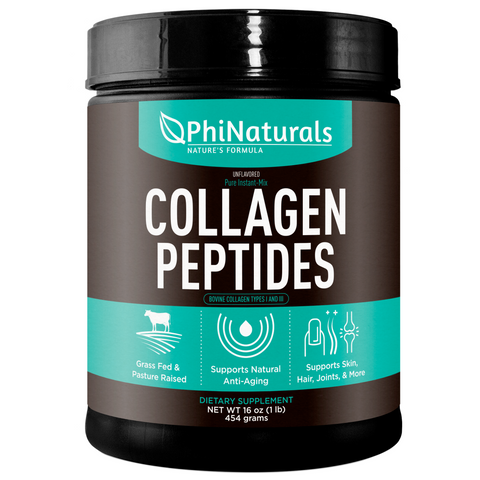 SHOW/HIDE ADDITIONAL IMAGES
Hydrolyzed Collagen Peptides

Fast & Free US Shipping
Orders over $35 qualify for FREE standard shipping and will arrive within 4-10 days, or upgrade to Priority shipping for a small fee.

no hassle returns
All purchases come with our no questions asked 30 day return policy.
---
Vital Supplement For Overall Health
Collagen peptides by Phi Naturals are from healthy grass-fed bovine. Collagen is the building block of healthy skin, joints, hair and nails which also forms the elastic netting that supports youthful, vibrant-looking skin. As you age, your body's collagen deteriorates from use and exposure to free radicals and natural degradation. Proper collagen supplementation rebuilds the body's collagen and helps maintain the body's constitution.
Supports Pain-free Joints
Collagen peptides form the building blocks of your joints & bodily tissues. As you age or accumulate free radicals, these structures break down. Proper collagen supplementation rebuilds the body's collagen. The skin regains its natural elasticity and joints can heal
All-Natural From Grass-Fed Cattle
Sourced from the healthiest pasture-raised cattle (grass fed) here in The United States. Our all-natural and organic peptides are formulated for purity and potency
Suggested Use
Mix one scoop with 8-16 ounces of water or other liquid once or twice per day 
Legal Disclaimer
These statements have not been evaluated by the FDA. This product is not meant to diagnose, treat, cure or prevent any disease or condition
Ingredients:
Amino Acids in Collagen
GlycineProlineAlanine
Hydroxyproline
Glutamic acid
Arginine Aspartic acid
Serine Lysine
Leucine Valine
Threonine
Hydroxylysine
Methionine
Histidine
Tyrosine
Cysteine
No Tryptophan
---
Share this Product
---
More from this collection